Offerit Downloadable Videos
From Offerit
The Downloadable Videos creative type lets you upload flash videos of your choosing to be downloaded by your affiliates for use in promoting your offers. After uploading your downloadable video, Offerit will automatically provide affiliates with a tracking link for your video, as well as a download link.
Uploading a Downloadable Video
You can upload new downloadable videos through the Creatives Admin, so your affiliates can use them to promote your offers. Just go to the Creatives Admin and click the "View Creatives" action icon next to the Video Download type, found under the Content Types section of the page.

You'll then be taken to the "Video Download Creative" page, where you can see all of your currently uploaded downloadable videos, and upload new downloadable videos. The "New Video Download Creative" section of this page allows you to upload your desired downloadable flash videos.
Use the "Video URL" field here to enter a URL pointing to the flash video that you want to upload as a downloadable video to Offerit. You can also add the URL for a thumbnail image for the downloadable video you're uploading with the "Thumbnail URL" field.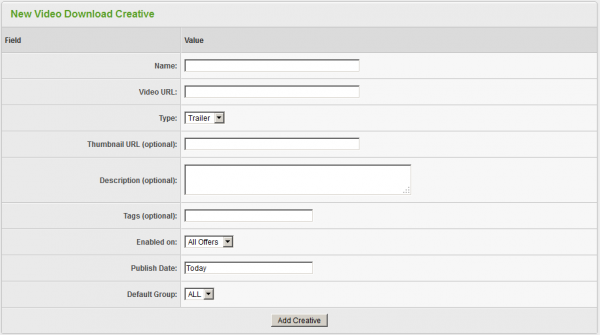 Once you add a URL pointing to your downloadable video, as well as a corresponding thumbnail image, you can go ahead and define the other settings for your downloadable video available here. The available settings here are:
Name - Enter a video name for your affiliates to see.
Video URL - Enter the URL for the flash video you are uploading here.
Type - Choose whether this video is a Trailer, 30 Second Video, 2 Minute Video, or 5 Minute Video.
Thumbnail URL (Optional) - Enter a URL for your video's thumbnail preview image here.
Description (Optional) - Input a description of your video for your affiliates to see.
Tags (Optional) - Tag your uploaded content with a category of your choosing.
Enabled on - Choose a offer (or all offers) that you want this video to be available for.
Publish Date - Input the date you want this video to be available from.
Default Group - Select a creative group to categorize this video under.
Click "Add Creative" once you finish defining all of the required fields to add your new Downloadable Video to Offerit.
Your new Downloadable Video will now appear in the "Video Download Creative" table, along with the other available downloadable videos. You'll find the creative ID number of each video here, as well as each video's URL, type, and default group.
Displaying a Downloadable Video
Before your affiliates can include your new Downloadable Video in one of their promotions, you must first add a "SHOW" rule. To do so, click on the "Add a new rule" action icon next to your new flash video. On the next page, simply add a "SHOW" rule type for the affiliate(s), commission(s), and offers(s) you want this video to be enabled for. You can also choose to enable this video for all affiliates, commissions, and offers. For more information on rules in Offerit, please see our Offerit Rules wiki article.

Once you create a "SHOW" rule for your new downloadable video, affiliates will be able to grab the linkcode for that video through their Creatives page.